We're a family-owned and operated HVAC company, and we have served south Texas for more than a decade. We were founded because we saw a need for trustworthy HVAC experts who would put their clients' interests first. We've never strayed from that goal. From dressing professionally to showing up on time, we do everything we can to benefit you. You'll always have options and the ability to communicate your needs. You'll never wonder what exactly we're doing on your system or how much it will cost. In addition to continuously training to stay on the cutting edge of HVAC technology, we're NATE-certified, which means we can handle jobs that other teams cannot. We are truly your ultimate HVAC solution in southern Texas.
When you call, you can expect a friendly greeting from our office manager, Rebeccah, who will collect your information, schedule service, and answer questions. Any service you need will be provided by respectful, careful technicians who have been trained and encouraged toward excellence by COO Jay Villegas and CEO Joe Villegas. We want you to breathe a sigh of relief when we arrive!
Transparency, excellence, and dependability. We are on a mission to be the HVAC experts you can trust in Texas. Contact us today.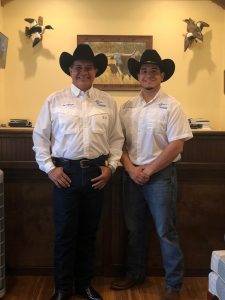 ---
Visionary Leaders
Frontier was founded with longevity in mind. Joe Villegas (Owner) wanted to leave a company that would last many generations. Mr. Villegas knew this was only possible if Frontier provided consistent, affordable and professional work to all its customers. Jay Villegas (General Manager) has been a part of Frontier for now over 5 years and has been following the same footsteps as Mr. Villegas. The goal of "company longevity" has not left Frontier and it is why we continue to thrive and do whatever it takes to keep our customers comfortable.
Office Staff
Our office is open 5 days a week with staff who are happy to answer all your questions and needs with air conditioning and refrigeration. Call today or email us to set up your appointment!
Comfort Advisors/Service Technicians
For many years, our team of experts has contributed to our ongoing success. Our skilled technicians have years of experience in the HVAC industry and are constantly learning about the changes in parts, machines and services. Any questions you have, they'll answer!